Ever heard of a full circle…..something that goes round and round and round…..that'll be Fashion. The same famille would house Music, my best friend.
Speakin of that…….BEP's Just cant get enough has been on replay all week…i absolutely lurv!
I've been watching this series set in the 60's/70's lately, and its awesome, the pieces worn (colors, combination, looks, accessories, hairstyles, make up) are so today.
New in are Stripes! Yea ms modish…stripes!
Those are so when I was 5 but yea I guess that's what makes fashion and style a delectable black forest cake almost everyone can have a piece of, anytime they want to.
My point is since the concept is more like a rollercoaster, free style, never fail to express yourself with an outfit, explore, and make mistakes until you can confidently say you've got a consistent sense of style which is in no way, a flash in the pan.
Prisoner, postman, sailor

and orderly stripes are trending, from tees to jumpsuits to skirts, tunics/dresses even purses and accessories.
I personally adore stripes so I'm excited about this move. Modish thinks the following should be etched in our minds as we rock this trend this season:
·

        
Wear stripes on gorge (hip/bum area, neckline/arms/ waist…..depending on your figure) body parts to accentuate them
·

        
Downsize to one or two per look for every day purposes except the event is one where you can go all out fashion-wise
·

        
Pair stripes up with bright colors (tomato reds, turquoise, pink, white etc) to compliment the bold fashion statement made
·

        
Slimmies can go for the vertical stripes while the fuller figured may stay vertical to hide the obvious.
With these few tips in mind, you are good to go striping all the way gurls!
Menswear shorts/trouser suits
Haute Mama Eva Longoria flaunts this look in her Navy blue shorts suit to an event paired with same colored shoes. Ms modish can sure pair this up as well to semi-formal events (preferably an evening to night one).
If you are not that skinny, you might want to increase the length of the shorts so when you sit, it doesn't look all smudged up and tacky. A lil room….makes the outfit look appropriate yet very sexy, so go girl!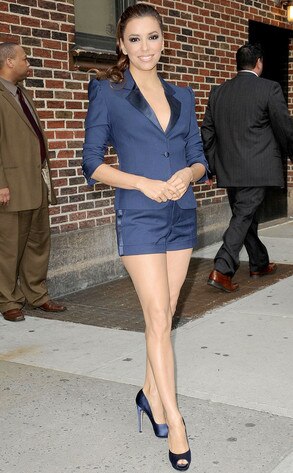 When you don't have fit, you don't have fashion.
No matter how hot an item is, if it doesn't fit you, you won't look stylish in it.
its Ms Modish,
xoxo